CRM
How to Use HubSpot's ABM Tool: Buying Role Property
Learn how to best leverage the new Hubspot Account Based Marketing tool when conducting B2B marketing targeting specific buying roles.
---
The ability to focus on your most valuable accounts and identify and weed out low-value leads that are not the right fit is the ideal scenario for every company. This is where account-based marketing (ABM) comes into the picture.
ABM strategy allows your marketing and sales teams to come together and identify accounts that both teams deem to be high-value and those that are seen as low-value. By doing so, you not only ensure the complete alignment of your marketing and sales teams but increase productivity, efficiency, and long-term growth by focusing on the most valuable accounts.
HubSpot offers innovative features for companies that use an ABM marketing strategy. This is your guide to HubSpot's ABM tool, including how to use and automate the 'Buying Role' feature.
Overview of HubSpot's Account-Based Marketing Suite
If you have a subscription to the Professional version or above of HubSpot, then you also have access to its ABM suite of features. Once the features have been activated, you are ready to begin utilizing its powerful tools.
The first thing to note is that your 'Target Accounts Home' is the central hub for your teams to monitor account activity. This includes identifying accounts that need to be worked with and filtering through accounts for varying purposes.
Creating Personas in HubSpot
Before you begin using the 'Buying Role' feature, it is best to create personas to categorize your contacts based on similarities for automation purposes later on. Companies generally generate multiple personas, which are fictional characters that embody your clients' pain points, goals and behavior. Personas allow you to target a group of contacts based on similarities specifically.
To create a buyer persona, follow these steps
Click the settings icon in the main navigation bar of your HubSpot account.

Next, click 'CRM' and then navigate to 'Properties' using the left sidebar.

Search 'persona' in the search bar.

Open the Persona property

Scroll down in the editing window and click '+' to add another persona.

To edit a persona, hover and click 'edit.'

Note that only fields with an asterisk are required information fields.
Utilizing HubSpot's 'Buying Role' Feature
A buying role can be assigned to each contact and identifies what role(s) the contact has in the sales process. For instance, a contact may be a decision-maker or in charge of the budget. More than one role can be assigned to a contact, and multiple contacts can have the same role.
For instance, two different accounts may each have a contact that is a decision-maker.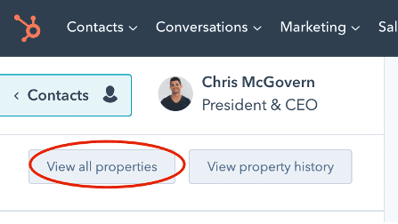 Using HubSpot's ABM features, your team can sort through contacts based on their buying roles. For example, if a team member wants to send information to all contacts who are budget holders, then that team member can sort contacts according to buying roles and generate a contact list of just those accounts that have a contact listed as a budget holder.
A buying role can be assigned when the contact is initially created or edited later. To edit or assign a buying role to a contact record, click on the contact's name and navigate to View All Properties on the left side of the contact record. Here, you can enter the desired buying role. This can be changed at any time.
HubSpot allows your teams to track buying roles to see how your content contacts are consuming your content. This includes web pages visited as well as downloaded guides and tools. You can also easily see when contacts have yet to have a buying role added to their information on your Target Accounts Home.
Automation of Buying Roles
Manually entering buying roles can be time-consuming. HubSpot allows for automation of assigning personas and buying roles based on set parameters. Your team can set triggers to automatically assign contacts to certain groups based on the information added during the initial contact set-up process. Please note that multiple triggers can be set to ensure accuracy.
Automation rules are used to assign contacts first to a persona and then to a buying role.
Let's take a look at an example:
Let's say you have created a contact in which the "JobTitle" field has a value of "IT Director" or a similar variation. An automation scenario should then be created for:
Visual Workflow - Assigning the Contact Persona

| | |
| --- | --- |
| Object | Contact |
| Trigger | Property: Job Title INCLUDES "Director" AND Job Title INCLUDES "IT" |
| Action: | Assign Property: Persona to a value of "IT Director" |
This means that, based on the fact that the contact is an IT Director, this account will be placed in the buyer persona that targets IT Directors – IT Ian, for example.
Next, let's say that this contact has also been identified as a deal influencer. The second automation should be triggered that states:
Visual Workflow - Assigning the Target Account Buyer Role

| | |
| --- | --- |
| Object | Contact |
| Trigger | Property: Persona EQUALS "IT Director" |
| Action: | Assign Property: Buyer Role to a value of "Influencer" |
This contact has now been automatically assigned to the buyer persona, IT Ian, and has an assigned buying role of deal influencer. Each new type of contact will require the creation of a new set of automation parameters. The longer you use automation, the less you will have to set new parameters, as there are only so many contact combinations your company will encounter.
Let Presh Marketing help you leverage HubSpot's ABM tools to get found, offer value, and sell more.