Account Based Marketing
New HubSpot Account-Based Marketing Tool
Learn about Hubspot's new Account-Based Marketing (ABM) module to all users on Hubspot Marketing Professional and Enterprise.
---
Account-Based Marketing (ABM) is a strategy that directs marketing resources to engage with a specific target of high-value accounts that are most suitable for your business. There are various ABM tools you can use for this type of marketing. HubSpot recently released a new feature for its Professional and Enterprise Marketing Hub platforms specifically for account-based marketing (ABM).
HubSpot's ABM tool stands out as a powerful, yet easy-to-use tool that helps you implement a successful and effective ABM strategy. Its intuitive and helpful features make your ABM performance easy to track and understand, both on the marketing and sales side of the house.
HubSpot Account-Based Marketing Tool Features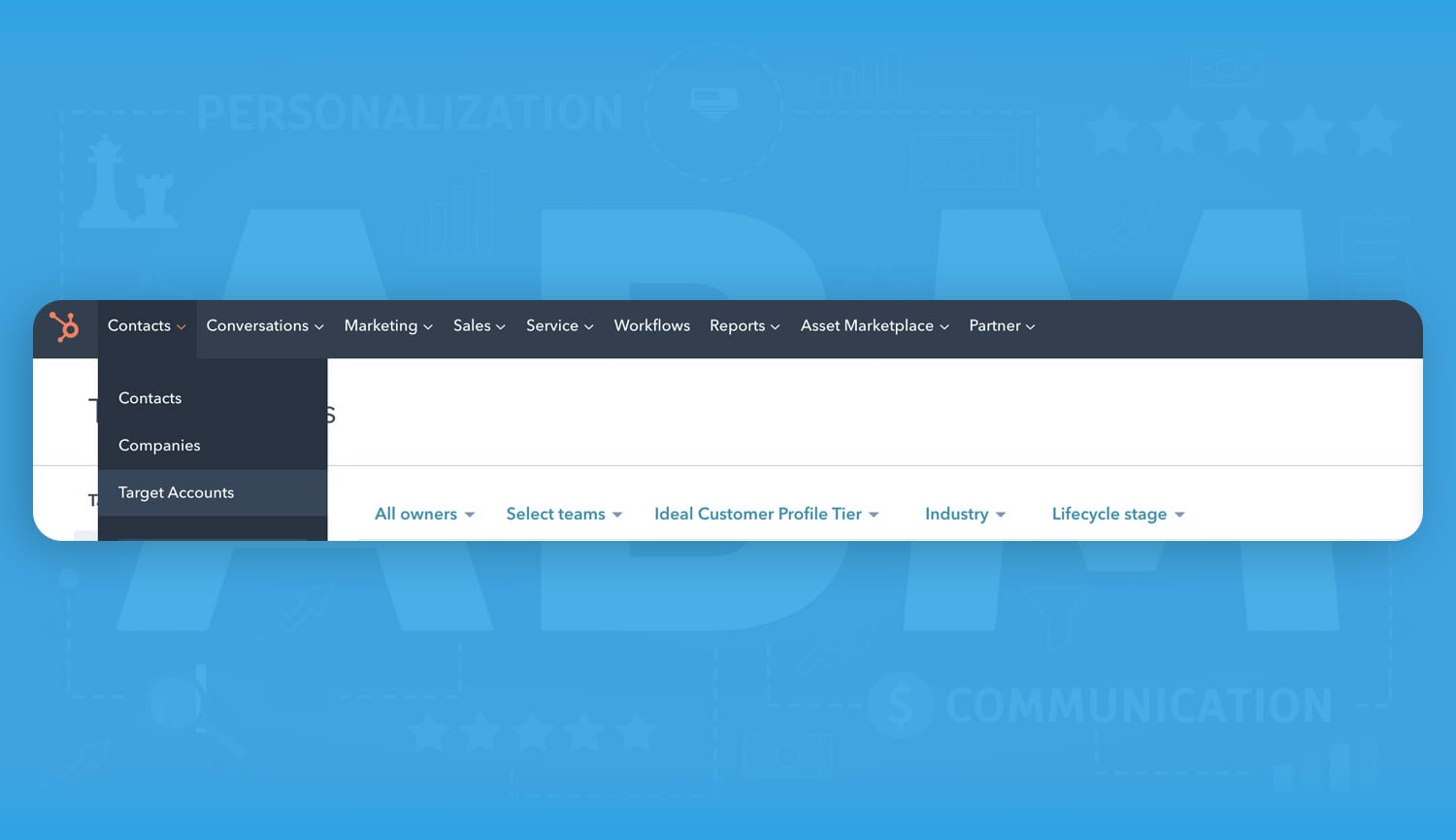 The HubSpot ABM tool has three stand-out features that make it an excellent resource for your marketing and sales teams.
HubSpot ABM Feature: Target Account Identification
The core benefit of an ABM tool is to save you the trouble of prioritizing poor-quality targets. With HubSpot's company scoring feature, you can score companies based on several rules. This approach makes it easy to determine which target accounts sit higher on your list of priorities and engagement.
You can customize the criteria for scoring different accounts according to the needs of your business.
HubSpot has three default properties to make the management of your target accounts easier:
Accounts / Companies
There are two company properties in HubSpot's ABM tool. The "Ideal Customer Profile Tier" and "Target Account." Under the "Ideal Customer Profile Tier," you can sort companies into three tiers depending on how compatible they are with your ideal customer profile. The "Target Account Property" is a true/false attribute. It works perfectly for companies with deals that are complex or large. Companies under this property get extra-personalized attention from marketing and sales teams.
Contacts
The primary field on the contact object is the "Buying Role" field. This is a multiple checkbox field that has various options: Blocker, Budget holder, Champion, Decision-maker, End-user, Executive Sponsor, Influencer, Legal and Compliance, and others. You can customize the roles or add new roles unique to your business.
This feature allows your marketing and sales team to assess which target accounts require more attention and distribute resources accordingly. You save resources by allocating them to the right targets, and you provide your targets with an excellent and personalized experience.
HubSpot ABM Feature: Real-Time ABM Dashboard Template
The dashboard is an invaluable source of information for your marketers and sales team. Using the information obtained from the panel can help answer common questions surrounding target account management as well as your ABM strategy.
The dashboard and account overview are in your dashboard dropdown menu for ABM. With the dashboard, you can get a quick overview summary for your companies in the CRM. Some valuable information you can get from looking at your account overview includes the target account status, associated contacts and last touch.
The account overview provides an in-depth view of your interactions with representatives from the target company. You can view a summary of emails, calls, meetings and upcoming engagements.
The dashboard provides insight into your efforts and how your teams are reaching out to the target account. It also saves you the trouble and pain of manual reporting.
HubSpot ABM Feature: ABM Specific Reporting Metrics
The report library gives you an overview of your ABM strategy's effectiveness. The feature has 12 pre-built (but customizable) reports under the "Target Accounts" tag. Some of the valuable information you can obtain from the report library includes:
The sources your targets are created.
Page views by target accounts.
The number of companies that match your ICP tiers.
The number of target accounts at each deal stage.
Deal amount totals by targets.
Contact created by target accounts each week.
The existing buying roles for each target account.
With these reports, you can easily stay on top of your target accounts to ensure your resources are put to good use and don't go to waste.
With these HubSpot ABM tool features, identifying, classifying and keeping tabs on targets is seamless. For any assistance on setting up or tweaking your HubSpot ABM software, get in touch with us today and let us help you maximize your marketing efforts.
Want to try Hubspot's Account Based Marketing tool for free? Register for your free trial account here.