Using CRM Data to Power Marketing: A

Guide

For

IT MSPs
CREATE EXPERIENCE-DRIVEN MARKETING THROUGH SEGMENTATION, CONTEXTUALIZATION, AND PERSONALIZATION
Harness the power of your data and turn your CRM into a revenue-generating growth machine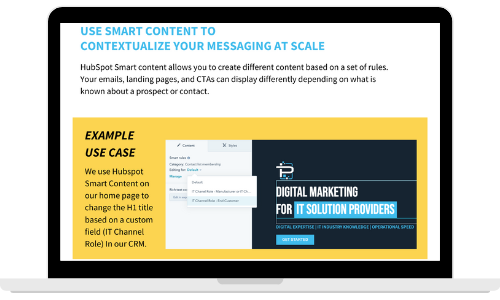 THIS WORKBOOK WILL TEACH YOU HOW TO USE YOUR

CRM DATA FOR REAL-TIME CUSTOMER-FIRST MARKETING
Leveraging your CRM is the secret to experience-driven marketing. Experience-driven marketing isn't just a buzzword -- it's your secret to growth. Forrester's research found that companies who said they were focused on experience grew 40% faster and increased customer lifetime value by more than 60% versus those who weren't.
CRM is the cost of entry into a modern market: try running a business without one. But a CRM is more than just a digital filing cabinet. It's a way for you to access, understand and monetize a goldmine already at your fingertips: customer data.
LEARN THE MODERN WAY TO APPROACH AND IMPLEMENT THESE TACTICS
Segmentation
Segmentation: Ensure prospects hear a message suited to their needs versus a broad generic message.
CONTEXTUALIZATION
Explain in clear and relevant terms why it's useful.
PERSONALIZATION
Make them feel as If you know them personally, and understand their uniqueness.
ADDITIONAL CRM-RELATED

CONTENT