Day in the Life
A Day in the Life of Presh Copywriter, Mallory McGourley
Hear it from the source: learn what life is like for a copywriter at Presh Marketing Solutions.
---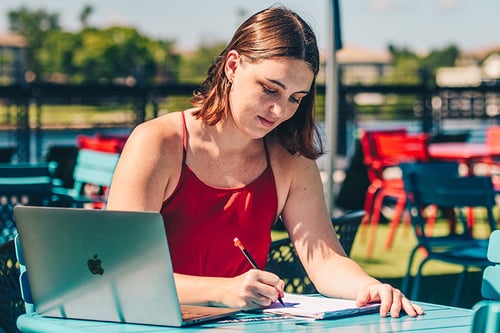 9:00 AM
My day starts the same way a lot of writers start their day—with a blank word document and a steaming cup of caffeine. A to-do list looms over me from my second monitor; today I'm writing for four different clients. As I survey my task list, I'm looking for the "quick & easy" variety. As a natural night owl, I always try to start my morning with a few victories. I get a few of those tasks sent off to internal review before I pull my laptop from the charger and march into Team Alpha's morning standup call.
9:30 AM
Team Alpha has pretty much commandeered the breakout room at the end of the hall. We settle into our usual seats around the table. They aren't assigned seats, we're just creatures of habit. We take turns solving each other's bottlenecks. Joe needs help with a strategy. Haley is reorganizing a project for next week. I'll get those copy edits to Brandon before lunch. Once everything is decided, I head back to my desk, grabbing a refill of caffeine on my way. It's time to get to the "big tasks" of the day.
10:00 AM
Today's biggest task is a guide about Cisco Firewalls. Guides usually run past 1,000 words and they're supposed to be chock full of the best information out there. Readers have to trade their email information to get to this resource, so my job is to make it a fair trade. I have some great resources and a few marketing tricks (like keyword research and buyer's personas) that help me lock down a pretty decent outline.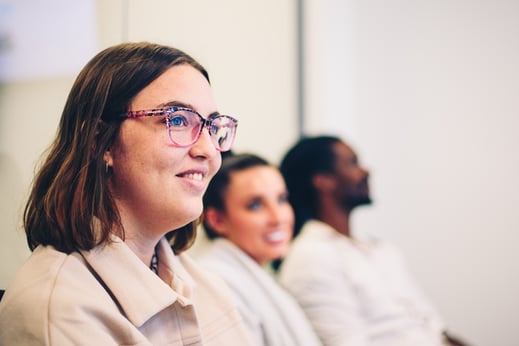 11:00 AM
Before I get a chance to start writing, I get a message from my team's designer. He tells me my worst nemesis has yet again returned: a widow. In copy, a widow is a word at the end of a paragraph that is stranded on a new line all by itself. They aren't grammatically incorrect, they're just ugly. On well-designed web pages, they're not allowed.
I jump on a call with our designer and he shares his screen as I tell him to remove this word and change that one until we've squeezed and prodded the sentence into a single line. He thanks me, we hang up, and it's back to the guide.
12:00 PM
It's business as usual through lunch. As a proud penny pincher, I head to the kitchen where I've stored my Tupperware of leftovers. I chat with Grady from Team Bravo and Shane from the front desk as I wait for my turn at the microwave. We end up huddled around our breakroom table and spend the rest of lunch talking about what dishes we plan on making for the next company potluck.
1:00 PM
We all head back to our desks and I glance at my calendar. I've got a meeting at three—I plan to get a lot of writing done before then. I press the button on the side of my desk that automatically hoists it up to standing height. I put headphones on and start playing 'Jazz in a Coffee Shop on a Rainy Day'. I don't resurface until my calendar pings, warning me I have ten minutes until that meeting.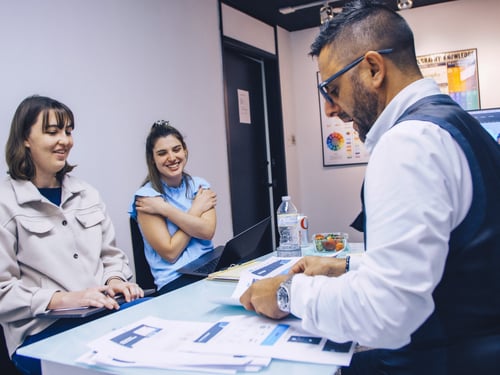 3:00-4:00 PM
I'm back in the breakout room with my laptop. My account manager, Haley, is already chatting with the client. This meeting will be quick, she says. As usual, Haley is right. We spend a few minutes brainstorming with the client about a web page for their new site. I take notes down the old-fashioned way—with a pencil. I swear by handwritten notes. I also swear I'm not a grandma.
By the time the end of the day rolls around, I've cut my task list down quite a bit. I'm working ahead (you never know when you're going to get a fire drill). By closing time, all my tasks have gone to the gorgeous green "complete" phase. I stuff my laptop in my bag, bid everyone adieu, and get on the road, praying the Howard Frankland Bridge isn't completely bumper-to-bumper traffic yet.